JXSC gold mining flotation machine
Release time:20 December 2018
Gold mining flotation machine application
SF Flotation machine is widely used for roughing, concentrating and counter-flotation of nonferrous metal that includes gold, copper, lead, zinc, nickel and molybdenum, ferrous metal and nonmetallic mineral.
Working principle of gold mining flotation machine
The impeller is driven by V-belts, which can bring the centrifugal effect to form the negative pressure. On the one hand, to inhale sufficient air to mix with ore pulp; on the other hand, to stir ore pulp and mix with medication to form the mineralized froth. To adjust the height of flashboard to control the liquid level and make the useful froth scraped by loam board.
Features of flotation machine
Excellent blade motor, rotor, scraping plate, scraping plate motor;
Large production capacity;
Save energy;
High efficiency;
Easy to set up,operate, maintain;
Long service life.
Our engineer guide installation, connection and teach operation, also design according to your mine information.
High efficiency gold mining flotation machine
The flotation machine is always applied with SF series flotation machine to form a joint unit; SF flotation machine is used for inhalation slot of pulp self-absorption while JJF series flotation machine is used for DC slot. And then, operation space is level configuration without foam pump to get high sorting indicators. JJF series and SF series also play their respective advantages. It is mainly used for copper, lead, zinc, nickel, molybdenum, gold and other non-ferrous metals, ferrous metals and non-metallic minerals roughing, selection and flotation operations. High Efficiency Gold Mining Machine Flotation Machine
Model
Volume
Cell size
Impeller Dia.
Impeller speed
Capacity
Power
Singe cell weight
m3
mm
mm
r/min
m3/min
kw
kg
XJ-3
0.35
700× 700× 700
300
483
0.18-0.4
2.2/0.55
430
XJ-6
0.62
820× 900× 850
350
400
0.3-0.9
3/1.1
755
XJ-11
1.1
1100× 1100× 1000
500
330
0.6-1.6
5.5/1.1
1416
XJ-28
2.8
1750× 1600× 1100
600
280
1.5-3.5
11/1.1
2113
XJ-58
5.8
2200× 2200× 1200
750
240
3–7
22/1.5
3400
SF-0.37
0.37
700× 700× 750
296
386
0.2-0.4
1.5/0.55
468
SF-0.7
0.7
820× 900× 950
350
400
0.3-0.9
3/1.1
805
SF-1.2
1.2
1100× 1100× 1100
450
312
0.6-1.2
5.5/1.1
1373
SF-2.8
2.8
1700× 1600× 1150
550
268
1.5-3.5
11/1.5
2138
SF-4
4
1850× 2050× 1200
650
220
2–4
15/1.5
2582
SF-8
8
2200× 2900× 1400
760
191
4–8
30/1.5
4129
SF-10
10
2200× 2900× 1700
760
191
5–10
30/1.5
4486
SF-16
16
2850× 3800× 1700
760
191
5–16
30× 2/1.5
8320
SF-20
20
2850× 3800× 2000
760
191
5–20
30× 2/1.5
9828
After-sale Service
–Professional installation
JXSC has a professional installation team, they are hardworking, industriously studying and brave in innovating. So far, they have successfully finished installation and commissioning tasks for thousands of large and small projects. Besides, JXSC installation team also helps our customers train the operations staff, till they can operate the machinery independently.
–Business reception
The luxurious commercial vehicles service
you during the whole journey, completely solving the travel problems after you
come to Ganzhou; elegant cafe keeps you comfortable when negotiate with us.
–Skilled after-sale service team
JXSC can offer 24*7*365 online engineer
service and solve the problems for you ASAP. JXSC after-sale service team
spreads all over the world, they will deliver prompt and complete service to
keep your job moving forward. The technicians of our team offer super service
ranging from routine maintenance and accident repairs to customization and
reconditioning.
–Preferential supply of wear parts
Original spare parts are the heart of crushing and screening plant. JXSC supplies quality original parts to protect your investment and our experienced product specialists can ensure you receive exactly what you need yo get your equipment back on working ASAP.
Our professional engineers design the total line of gold ore beneficiation flow diagram….
Below is a general flow for reference. We will design the complete plant according to your mine info and your working site area.
Welcome you visiting our working site to see the machines in working condition.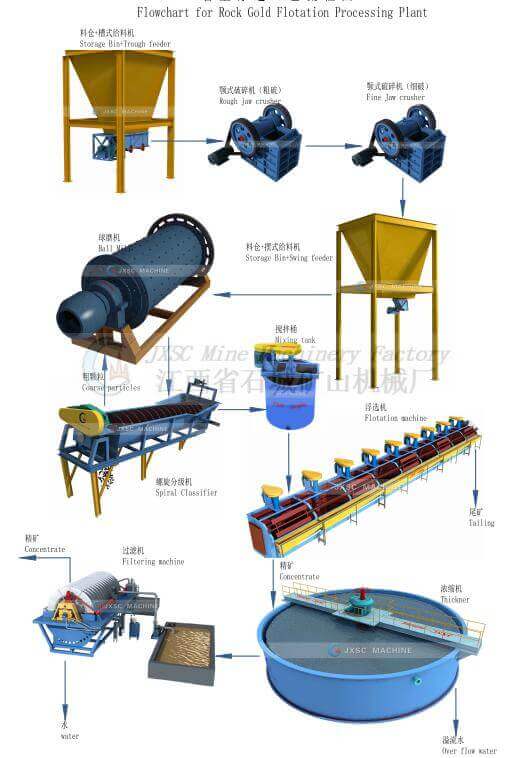 Jiangxi Shicheng Mine Machinery Factory is a leading China mineral separator machinery manufacturer and supplier, as a professional mineral separator machinery company, we have well-run mineral separator machinery factory.
Welcome to contact us.
The mineral separator machinery is including gravity concentrate machine, shaking table, jigging machine, jig separator, spiral chute, spiral separator, gold centrifuge concentrator, gold concentrate shaking table, gold jig separator, gold concentrate machine, gold separate machine, gold recover equipment etc.
Thank you for taking time go through our High Efficiency Gold Mining Flotation Machine. We provide the completely production line service.
If you have any questions, comments, or anything we can do for you, please do not hesitate to contact us any time.
WhatsApp: +86 15770799319
Skype: julying
LATEST PRODUCTS
Belt filter press series has the following featur…

It is widely used in dehydrating iron ore, copper…

The mineral tailling mining thickener consists of…