Published time:29 June 2018
Mining equipment trommel machine Applications
JXSCdesign it to break up alluvial gravels, clay and sand
2.Normally use as tin ore wash plant, trommel washing machine, clay wash plant, alluvial tin washing plant, cassiterite washing mining equipment
It can accept input feeding size up to 230mm
Clay wash plant Features
High capacity and high power scrubbingefficiency
The long drum of the scrubber retains material for longer, more vigorous washing for complete separation
One high output electrical motor driving a gear system providing efficient torque
Adjustable rotary speed
The water with high pressure flushed the inwall of trommel drum
This mining equipment can accept material up to 230mm
Mechanical sealing of inlet chute – minimal spillage when over feeding
Drive loads absorbed within the drive frame and pivoting drive frame design – Foundations only have to support verticalload and are not critical for alignment ie minimal cost
Shell design less mass than conventional roller supported units – installation craneage requirement reduced.
Tin washing trommel Working Principle
A: The rotary mining equipment scrubber is an autogenously rotating drum scrubber, utilising pebbles and rocks within the feed source to fracture and disintegrate clay, agglomerates and soft oxides.
B: Disintegrated material is homogeneously slurried within the drum, whilst the autogenous load is retained within the drum by reverse flights located at the drum discharge end.
C: Slurry and washed oversize overflows the drum discharge throat to the concentric exit trommels.
JXSC also produce mobile washing scrubber, it is a mobile mining equipment include grizzly hopper, washing scrubber part, trommel sieving part, and slurry pump, water injection system.
The main body drum trommel is driven by the rubber transmission wheels. There are three kind of driven system in the tin trommel scrubber, steel gear, steel wheel, and rubber wheel. Rubber wheels transmission wheels is the best, which has lower noise and more durable quality.
This mining equipment is design to washing and separating the alluvial tin ore with sticky clay. Raw ores go into the washing scrubber, to wash and dissolve the clay, then flow into the screening part of drum trommel, to separate the tin sand from gravels and soil.
There is water injection pipe around the hopper, sieve drum outside, and come across center of the sieving part. the flushing water on the hopper edge will help the material feeding to be more efficient. The flushing water from the sieving part outside and cross center water pipe can enhance the separating performance, and prevent the soil stick on the sieve hole. To make sure this mining equipment has the best washing and separating function.
then material will flow into Jig separator and Shaking tables for further processing, all these mining equipment are adopt gravity separation principle to get the final tin concentrate. JXSC factory provide a complete TIN processing plants with different capacity available, welcome to contact with us for more details.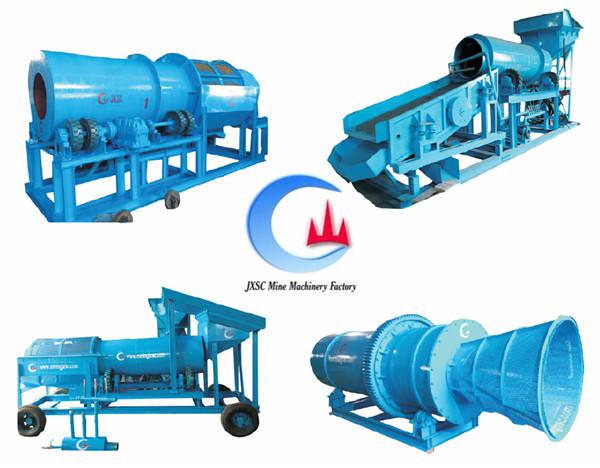 LATEST PRODUCTS
The automatic gold panning machine is a mineral p…

Planetary ball mill is mainly used in fine grindi…

Laboratory Automatic Mortar Grinder is mainly use…