Published time:04 September 2019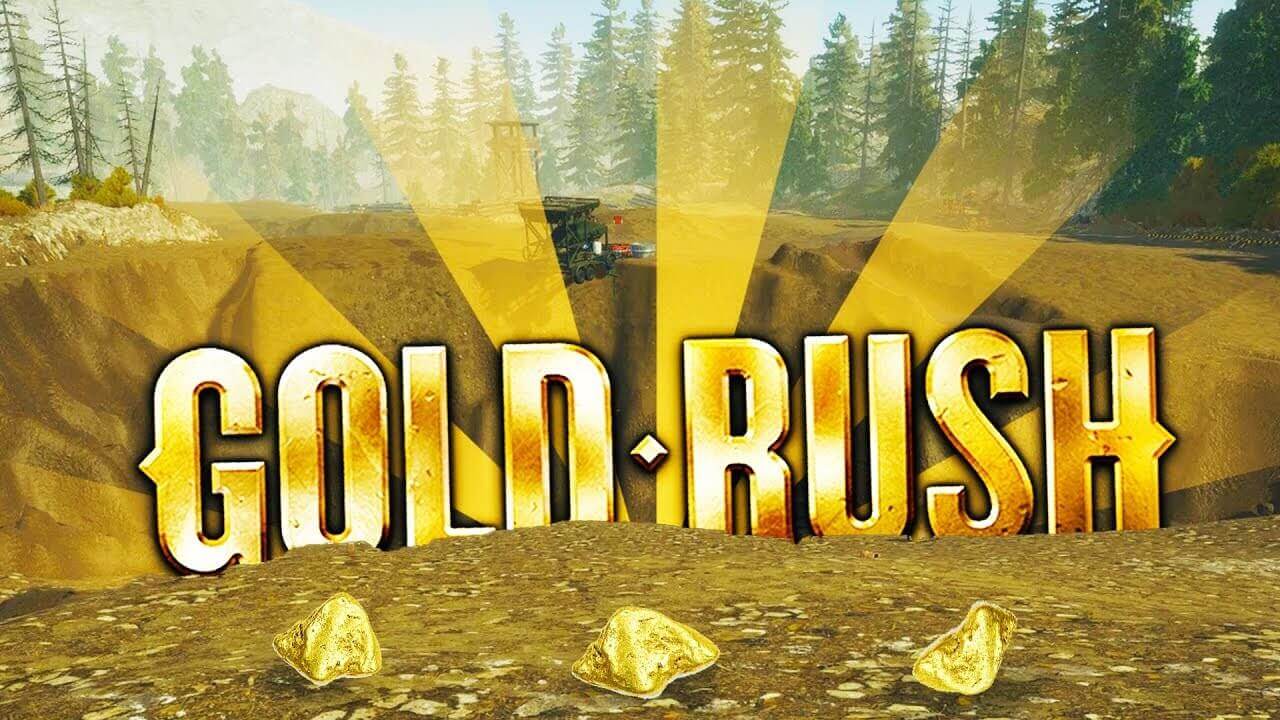 How to Separate Gold from Sands? What is the placer gold mining equipment? gold mining plant cases for reference. Join us, read more…
How many golds in the world?
First, we need to know that the most chemical element in the earth's crust is oxygen, which accounts for 48.6% of the total weight; followed by silicon, which accounts for 26.3%; the following are aluminum, iron, calcium, sodium, potassium, and magnesium.
The above eight elements accounted for 98.04% of the total weight of the earth's crust, and the remaining 80 elements accounted for 1.96%. The average content of Au (gold) elements in the earth's crust is <0.01ppm (that is, <0.00001‰), and the content is very very small.
Through a series of mineralization activities such as magmatism and crustal movement, gold is enriched to 1 gram per ton, that is, one gram of gold per ton of ore, ie 0.001 ‰.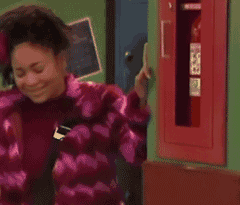 How is placer gold formed?
Because of the movement of the earth's crust, the gold in the depths of the earth has been "squeezed out" (also from the volcano), which is why it is generally a gold mining area in the middle of the two plates or in the deep valleys of the mountains.
After coming out of the crust, a small amount of gold is enriched in the rock, but after the weathering and erosion, as well as the structure and other broken rocks, the gold-rich ore is shattered (need a very long time).
Under the action of flowing water, gold ore fragments are brought into the river and further shredded during the handling process, slowly separating the gold out of the ore.
Since gold is a large specific gravity mineral with a specific gravity of 19.32 g/cm3, fine gold will deposit at the corner of the river (slow flow rate), forming the placer gold deposit where you looking for.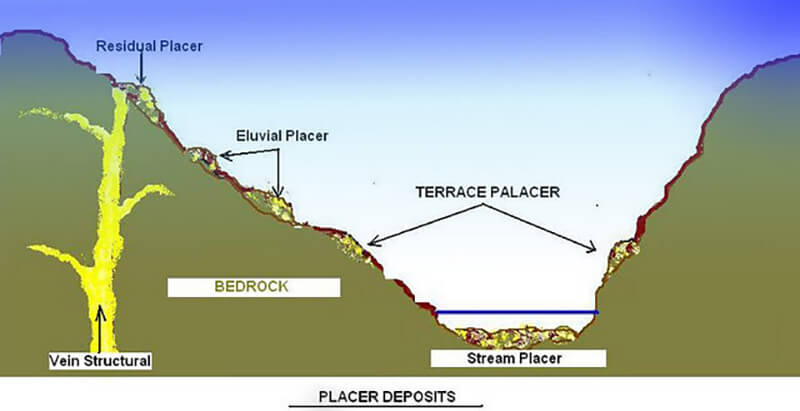 The actual formation of geological structures varies widely. River gold is generally in the sand layer and not in the rocks. In order to get the gold sand, it is often necessary to take about 20 meters deep (forget the human labor).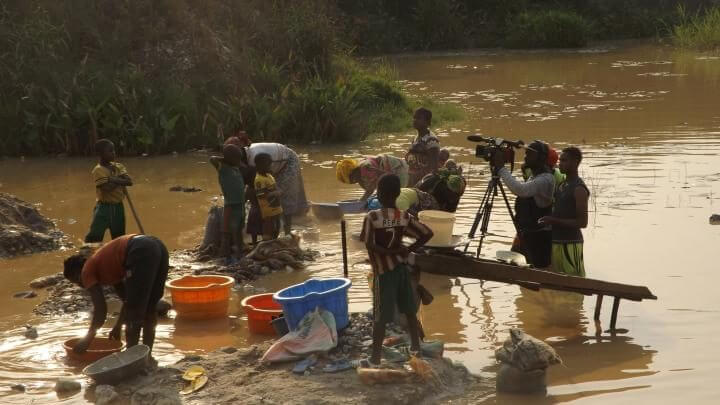 What you see in the above picture 'gold mining by hand' is either the scene of original operation in African or the final screening operation after the done mechanical process.
As for the specific mining and screening purification process, it is another point.
How to process river placer gold?
In a former post, I had listed the types of placer gold deposit, how to extract sand gold.
Check here: Placer Gold Deposit and Mining Beneficiation
Case study: placer gold mining plant
—Gold Washing Plant—
0.5TPH Portable Hard Rock Gold Processing Plant in Sudan
0.5TPH Small Rock Gold Processing Plant In Sudan
1T/H Rock Gold Processing Plant In India
2TPH Quartzite Gold Wash Plant In Africa
2TPH Small Scale Rock Gold Processing Plant In Congo
4TPH Gold Ore Processing Plant In Zimbabwe
5T/H Rock Gold Processing Plant In Tanzania
5TPH Quartz Rock Gold Mining Process in Nigeria
10TPH Sulfide Gold Processing Plant In Ghana
20TPH Rock Contain Gold Mining Process in Zimbabwe
20TPH Alluvial Gold & Hard Rock Gold Processing Plant in Madagascar
30TPH Placer Gold & Rock Gold Wash Plant in Zambia
50TPH Gold Washing Plant In Uzbekistan
50TPH Alluvial Gold Mining Process In Ghana
50TPH Alluvial Gold Washing Plant In Sierra Leone
60TPH Wheel Mobile Gold Processing Plant In Mali
60TPH Gold Processing Plant In Russia
60TPH Mobile Alluvial Gold Wash Plant In Ghana
60TPH Small Portable Gold Wash Plant in Mali
75TPH Hard Rock Gold Mining Plant in Sudan
100TPH Clay Alluvial Gold Washing Plant In Ghana
100TPH Alluvial Gold & Diamond Processing Plant in Congo
100TPH Gold Tailings Processing Plant In Uganda
100TPH Placer Gold Processing Plant In Kyrgyzstan
100TPH Alluvial Deposit Gold Processing Plant In Ghana
100TPH Alluvial Gold Wash Plant In Suriname
100TPH Alluvial Rock Gold Washing Plant In Mozambique
167THP Crusher Plant and 42TPH Rock Gold Processing Plant In Zimbabwe
200TPH Alluvial Gold Wash Plant In Ghana
600TPH Mobile Alluvial Gold Plant In Burma
LATEST PRODUCTS
The 5 Deck High-frequency Screen is arranged in s…

The mobile vibration sand screening and conveying…

Trommel sand screening machine is a kind of scree…