How to use mine machine to separator chrome mine
Release time:28 April 2018
Stone chrome mine in Albania
Our factory (JXSC MINE MACHINE FACTORY) have make a stone chrome process in Albania in 2017. This line capacity is for 10 tons per hour, Feeding size is for 300mm, the feeding size is big, so need two stage jaw crusher, use two stage jaw crusher can get 0-20mm size. Spiral classifier is for classifier ball mill output material, 0-1mm size to shaking table, and +1mm to ball mill grinding again. Shaking table also have two stage, so this line have add hydraulic box to feeding material to shaking table, hydraulic box also can separator different size, the different size to different shaking table desk, course deck, fine sand deck, slime deck, use different deck to get the highest recovery rate.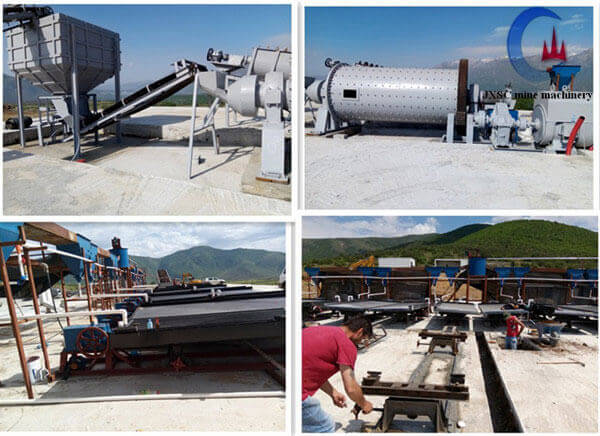 How to recovery stone chrome mine
First use hopper and vibration screen feeding stone chrome to preliminary crusher, then to fine crusher, Then use belt to a hopper, underside the hopper have a feeder, feeder 0-20mm size to ball mill, ball mill working together with spiral classifier, then get 0-1mm size to shaking table, shaking table also have two stage, one for preliminary, one for fine. Then can recovery chrome.
Not for stone chrome, also for other stone mine, like gold, tin, tan-ni, tungsten, use this gravity machine process also suitable.
How to install chrome mine process
Our engineer have go this Albania customer site for install and debug. It have use one month to finish all of machine install and debug, to confirm all machine can use then leave. Not only install and debug, Our factory also accept sample test, it can send sample to our factory for test, also our engineer can go your mine site to inspect and take sample for test. We can design the flow chat for customer, and draw layout. Supply customer visit factory invitation letter. We will try our best to service customer require.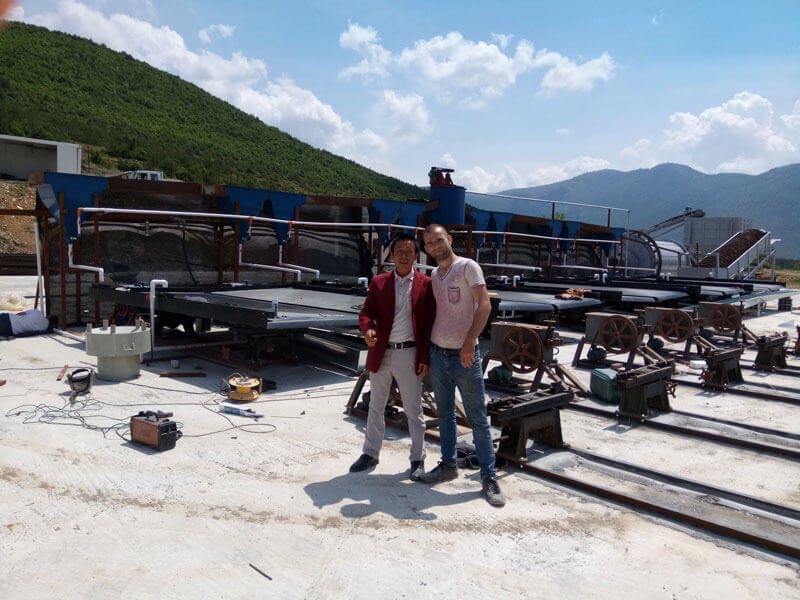 Chrome apply
Chrome is most in South Africa, Turkey, India, Iran, Pakistan, Albania, Zimbabwe, the Philippines, South Africa, Turkey, India, Iran, Pakistan, Albania, Zimbabwe, and the Philippines. For China is need buy chrome from this country. Chrome is use for smelted various ferrochrome alloys, refractory material, dichromate, cast stone. It is a indispensible material in the nature.
The relationship between machine and mines
Each mines have suitable machine to recovery it. First like stone mine and sand mine. Stone mine must crusher and ball mill, then can separator metal form stone, then use other machine separator metal and small stone. Sand mine is most for small size, first can use screen to separator big size out, small size use other machine to separator metal and sand. Like clay mine and without clay mine. Clay mine is mean have much clay around metal, must cleaning first, so need washing plant. Without clay mine use screen separator different size is ok.
Crusher & ball mill & spiral classifier: this machine is for stone mine grind step, big size to crusher, after crusher to ball mill grinding, spiral classifier can make big size to ball mill grinding again.
Trommel scrubber & trommel screen & vibration screen: this machine is for washing and separator different size. Clay mine need trommel scrubber to washing, without clay ore need trommel screen and vibration screen to separator different size.
Shaking table & jig separator & centrifugal concentration & spiral chute: this machine is for concentration machine, is use gravity to separator gold, tin, tan, ni, chrome, diamond, tungsten and so on.
If you need more details pls contract us.
LATEST PRODUCTS
【Capacity】0.2-9 T/H 【Processible Material】gol…

Belt filter press series has the following featur…

It is widely used in dehydrating iron ore, copper…