Chromium
Release time:23 August 2019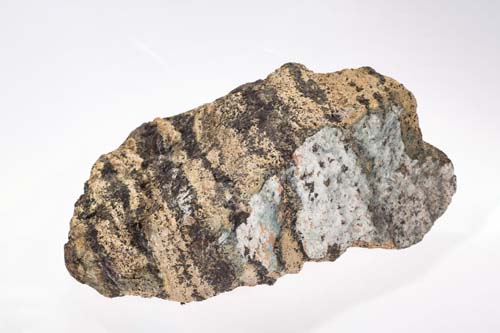 Type
Element (Minerals/Ores of)
Mineral Classification
Oxide
Chemical Formula
(Fe, Mg)Cr2O4
Streak
Brown
Mohs Hardness
5.5
Crystal System
Isometric
Color
Black to brownish black; brown to brownish black on thin edges in transmitted light
Luster
Submetallic
Fracture
Uneven
Extract Chrome From Its Ore
Chrome Beneficiation Methods
Chrome gravity separation
The main chrome extraction beneficiation methods are gravity and magnetic separation processes. Chrome ore gravity mining equipment includes the jig separator, shaking table, spiral classifier, centrifugal concentrator, and spiral chute. A weak or high-intensity magnetic separator is sometimes used to further improve the chromium concentrate grade and the chromium-iron ratio. Besides, some chrome mines use flotation and flocculation flotation methods.
Chrome magnetic separation
How to determine the chrome ore concentrating method and select the right chrome mining equipment is closely related to the physical and chemical properties of chromium ore. Because chromite is weakly magnetic, the technology of purifying chromium ore with high-intensity magnetic separation has been very mature with the development of high-intensity magnetic separation. Moreover, the magnetic separation process has no pollution to the environment, the chrome ore magnetic separation technology has been popularized and applied in the major mineral processing plants.
Mineral deposit and equipment
The most suitable flow and machine are varied by the condition of mine. Rock mines need a crusher and ball mill in most cases, an alluvial deposit mine is most for small size. Trommel scrubber washes the clay, screens the big size, and separates the waste sand and mineral.
Crusher & ball mill & spiral classifier: this machine is for the stone mine grind step, big size to crusher, after crusher to the ball mill grinding, spiral classifier can make big size to ball mill grinding again.
Trommel scrubber & Trommel screen & vibration screen: this machine is for washing and separating different sizes. Clay mine needs a Trommel scrubber for washing without clay ore needs a Trommel screen and vibration screen to separate different sizes.
Shaking table & jig separator & centrifugal concentration & spiral chute: this machine is for concentration machine, is uses gravity to separate gold, tin, coltan, chrome, diamond, tungsten, and so on.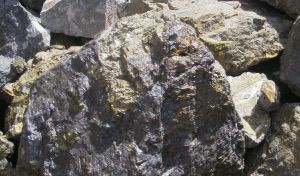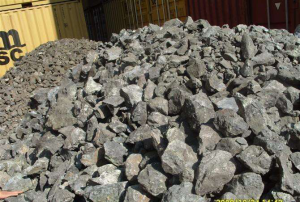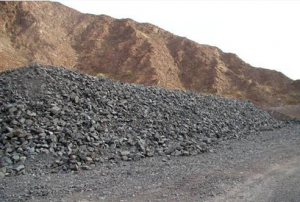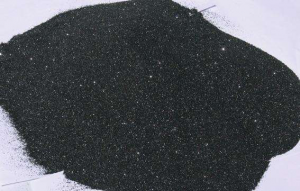 Hard Rock Chrome Mining Process
This Setup is a Rock Chrome ore processing plant, it is configured with raw material feeding, primary crushing, fine crushing, screening, ball mill grinding, and gravity separation to separate out and upgrade Chrome concentrate.
The chrome ore raw material stone is fed to the primary jaw crusher by a vibration feeder to feed rock chrome ore smoothly and evenly. The vibration feeder is with the grizzly bar to grizzly oversize to a primary jaw crusher. Under the grizzly bar small size material goes to the fine crusher by conveyor. So as can increase the crushing effect of the primary jaw crusher.
The primary jaw crusher is for crushing big rock chrome ore to a smaller size, output material to go next fine crushing machine cone crusher. The cone crusher is crushed rock chrome to below 20mm that is suitable feed to the ball mill but firstly will go to a vibration screen for screening out oversize+20mm and sent back to cone crush crushing again. Under screen 0-20mm go to storage bin before ball mill. If a small capacity plant, the cone crusher can be replaced by other fine crushers, such as a fine jaw crusher, hammer crusher, impact fine crusher, etc.
An electromagnetic vibration feeder and belt conveyor will send the 0-20mm powder material to the ball mill smoothly. The ball mill is for grinding 0-20mm to small powder. It works together with the spiral classifier, so the overflow slurry from the classifier is about 80% 200mesh powder. The oversize particle from the classifier will go back to the ball mill grinding again, to form a closed-loop.
The 200mesh slurry will be pumped to a gravity separation machine, spiral chute, and shaking table, the spiral chute is for primary concentration. To increase the Chrome recovery ratio to the maximum, we use a 2-stage spiral chute separation. The middling material from the 1st stage spiral chute group will be pumped to the 2nd stage spiral group to recover as much chrome as possible.
All the heavy concentrate ore discharged from the two stages spiral group will go to the shaking table for concentrate again to get higher-grade chrome concentrate.
This setup plant design can be customized according to the customer's chrome ore conditions. If you need much higher-grade chrome concentrate, consider adding a high-intensity magnetic separator at the final stage.
The plant capacity can also be as requested, such as 2tph,5tph,10tph,15tph,20tph, or bigger.
Successful Case – Rock Chrome Case
Rock Chrome Mine in Albania
JXSC helped customers install a 10 TPH hard rock chrome process plant in Albania in 2017.
Capacity: 10 TPH
Feeding size: 300mm
Feeding: Hopper and vibration screen
Crushing: Two-stage jaw crusher crushes raw material to 0-20mm.
Grinding: Grind the fine jaw crusher output material to 1mm. vibrating screen work together with the spiral classifier, 0-1mm size goes to shaking table, and +1mm are sent to ball mill grinding again.
Shaker table chrome gravity separation: Shaking table also has two stages: preliminary and fine. Adding the hydraulic box to feed material to the shaking table, the hydraulic box also can separate different ore sizes to different shaking tables, course decks, fine sand decks, and slime decks, thus getting the highest recovery rate.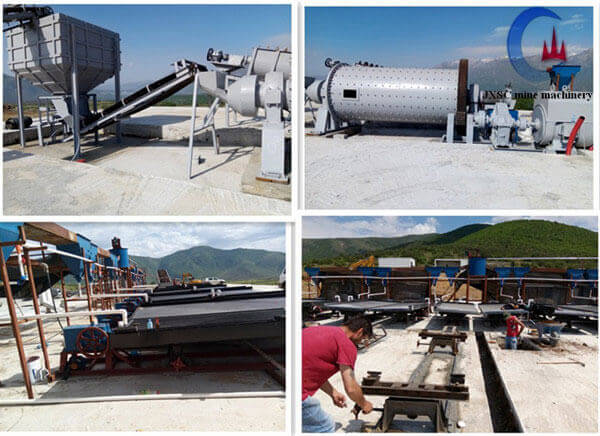 Alluvial Chrome Mining Process
This complete system is a 150 TPH alluvial chrome ore processing plant configured with a vibrating feeder, trommel screen, belt conveyor, slurry pump, and spiral chute.
The raw ore information is as below:
Feeding capacity 150 tons per hour
Chrome concentrate size less than 2mm
0-2mm mineral in raw ore about 70%
Raw ore doesn't contain sticky clay
The whole process is as below:
An excavator or truck sends raw ore into the material hopper through a vibrating feeder that evenly feeds the trommel screen. A belt conveyor will send the vibrating feeder with grizzly bar, gap 75mm, and over 75mm rock to the waste stockpile.
0-75mm ore go to trommel screen for sieving out 0-2mm and 2-75mm. 2-75mm are sent to the waste stockpile via belt conveyor. 0-2mm go to the slurry tank.
Use a slurry pump to send 0-2mm to the first stage spiral chute group for separating out chrome concentrate, middling, and tailing. (tailing go to tailing pool)
Middling from the first stage spiral chute group to the second stage spiral chute group by slurry pump for further processing can recover more chrome concentrate.
Chrome concentrate from two stages of spiral chute groups goes to the concentrated pool.
This whole setup is suitable for large processing capacity and is cost effective with a good recovery effect.
Chrome Mining Equipment Manufacturer
JXSC Mine Machinery Company in China has more than 30 years experience in chrome ore equipment manufacturering, and ore processing flow design & optimization. Have already built many chrome ore processing plant in South Africa, Zimbabwe, Madagascar, Albania, India, Philippines, kazakhstan, Russia, China, etc.
Services: equipment supply, flow design, on site installation, sample test, visit factory invitation letter.
Contact Us Now
If you have some questions about our products, please feel free to fill out the form below, and we will contact you within 24 hours. Rest assured that we won't reveal your information to anyone.