Silica
Release time:23 August 2019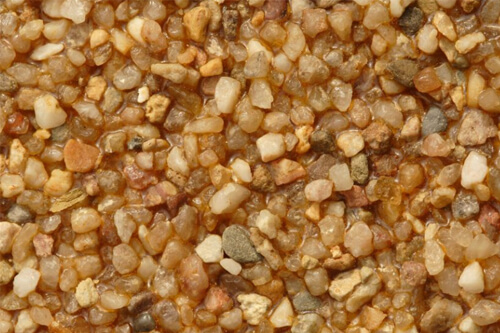 Also called silica sand or quartz sand, silica is made of silicon dioxide (SiO2). Silicon compounds are the most significant component of the Earth's crust. Since sand is plentiful, easy to mine and relatively easy to process, it is the primary ore source of silicon. The metamorphic rock, quartzite, is another source.
Silicon (Si) is a semi-metallic or metalloid, because it has several of the metallic characteristics. Silicon is never found in its natural state, but rather in combination with oxygen as the silicate ion SiO44- in silica-rich rocks such as obsidian, granite, diorite, and sandstone. Feldspar and quartz are the most significant silicate minerals. Silicon alloys include a variety of metals, including iron, aluminum, copper, nickel, manganese and ferrochromium.
In almost all cases, silica mining uses open pit or dredging mining methods with standard mining equipment. Except for temporarily disturbing the immediate area while mining operations are active, sand and gravel mining usually has limited environmental impact.
Ferrosilicon alloys are used to improve the strength and quality of iron and steel products. Tools, for instance, are made of steel and ferrosilicon.
In addition to tool steels, an example of "alloy steels," ferrosilicon is used in the manufacture of stainless steels, carbon steels, and other alloy steels. An alloy steel refers to all finished steels other than stainless and carbon steels. Stainless steels are used when superior corrosion resistance, hygiene, aesthetic, and wear-resistance qualities are needed.
Carbon steels are used extensively in suspension bridges and other structural support material, and in automotive bodies, to name a few.
Silicon is used in the aluminum industry to improve castability and weldability. Silicon-aluminum alloys tend to have relatively low strength and ductility, so other metals, especially magnesium and copper, are often added to improve strength.
In the chemicals industry, silicon metal is the starting point for the production of silianes, silicones, fumed silica, and semiconductor-grade silicon. Silanes are the used to make silicone resins, lubricants, anti-foaming agents, and water-repellent compounds. Silicones are used as lubricants, hydraulic fluids, electrical insulators, and moisture-proof treatments.
Semiconductor-grade silicon is used in the manufacture of silicon chips and solar cells. Fumed silica is used as a filler in the cement and refractory materials industries, as well as in heat insulation and filling material for synthetic rubbers, polymers and grouts.
Silica is used in ceramics and in making glass.
Silicon is considered a semiconductor. This means that it conducts electricity, but not as well as a metal such as copper or silver. This physical property makes silicon an important commodity in the computer manufacturing business.
Contact Us Now
If you have some questions about our products, please feel free to fill out the form below, and we will contact you within 24 hours. Rest assured that we won't reveal your information to anyone.