Published time:13 July 2018
JXSC silica sand washing and separation machine Applications
The trommel scrubber is one of the most popular mining equipment in mineral recovery process. Scrubbers are designed to break up alluvial gravels, clay and sands, they can also handle stone and sand washing, feed with high clay content and difficult ores, which has been widely used in placer gold & alluvial gold washing plant, coltan & columbite washing plant, titanium processing equipment, tungsten washing plant, tin & cassiterite washing plant, iron sand washing machine, quartz stone washing plant, placer diamond pre-treatment machinery, black sand processing plant, manganese washing plant, granite washing plant in quarry, chrome wash plant, sand washing machine, silica sand washing machine, quartz sand processing plant

silica sand washing and separation machine Description

JXSC trommel scrubber which is also been called rotary trammel, scrubber trommel, trammel scrubber, trommel wash plant, drum scrubber, washing scrubber, rotary washing machine, drum washing scrubber, rotary scrubber, drum washing machine, rotary washer, rotary washing scrubber, mud washing machine, mud washer, rotary washing equipment, ore washer etc.

Most of our scrubber trommel is customized scrubbing machine, manufactured according to GB standard, and normally is much higher than the GB standard.
silica sand washing and separation machine Working principle

A. The trommel scrubber is an autogenous rotating drum scrubber, utilising pebbles and rocks within the feed source to fracture and disintegrate clays, agglomerates and soft oxides.

B. Disintegrated material is homogeneously slurried within the drum by reverse flights located at the drum discharge end.

C. Slurry and washed oversize overflows the drum discharge throat to the concentric exit trommels.
silica sand washing and separation machine Features:

1. Customized capacity and strong power scrubbing, large capacity can reach 200-250tons per hour

2. Long washing drum of the scrubber retains material for longer, more vigorous washing for complete
separation

3. One high output electrical motor driving a rubber wheel system providing efficient torque

4. Rotation speed can be adjusted by advanced reducer

5. The water with high pressure flushed the inwall of drum

6. Can accept material up to 230mm


Different configuration of silica sand washing and separation machine can be customized :

1. Feeding hopper / grizzely hopper is available

2. The washing drum, screening section diameter and length can be customized

3. Drum inner lining material is both rubber liners & spiral steel plates available

4. The screen sieve material can be high hardness manganese steel, stainless steel, or PU screen

5. The screen layers can be 1, 2, or 3 layers

6. Driving system equip with durable rubber wheels

7. The trommel can be fixed type, mobile type with rubber wheels, or skid mounted mobile type

8. Water pump, water spray pipe, water distributor, diesel engine or generator available

Note: All the parts material are high end quality materials, the steel board is from Baosteel Group, the electric motor with IP56 water proof standard, the speed reducer from world famoud brand K series.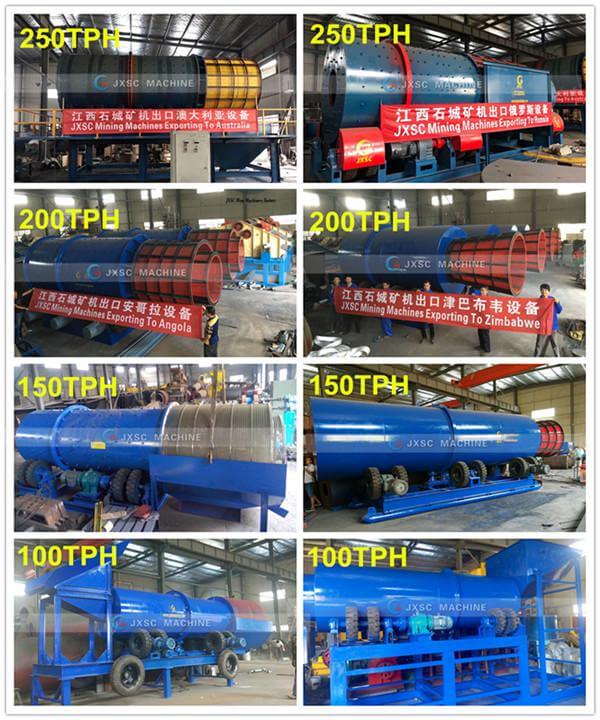 LATEST PRODUCTS
Designing an automatic gold collection machine sp…

The foot water pump is applied in developing worl…

The sand pump gold mining boat is a small gold mi…