Published time:30 August 2019
Following the grand opening of the Shanghai Bauma China 2010 Expo in November 2010, portable rock crusher and screening equipment became one of the most dazzling star products at the show. Not only the foreign companies completing to unveil the mobile crusher plant, but domestic companies have also shown their latest achievements.
In this article, I will make a comparison and analysis of the portable rock crusher of the four internationally renowned brands. Join us.
Sandvik QJ330 mobile jaw crusher
The mobile crushing and screening equipment produced by Sandvik Mining Engineering Machinery Trading (Shanghai) Co., Ltd. is mainly used in urban construction waste treatment, municipal cement road reconstruction, engineering construction, quarrying, mining, recycling and so on.
The working point can be adjusted and moved at the demolition site, and different equipment can be selected to process different stones.
Equipped with dustproof settings to reduce dust pollution on-site;
Diesel power can work in the field without power supply; remote control mobile, safe and reliable; automatic operation control, easy operation and maintenance.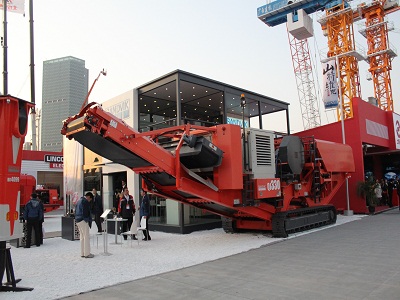 The QJ330 mobile jaw crusher is equipped with a Carter C9 engine with a maximum power of 262 kW and a total mass of 42500 kg. The silo is controlled by hydraulic control and has a volume of 7m3. The feeder adopts vibrating grid feeding mode.
CJ211 type jaw crusher is used for the crusher. The feed port size is 1100×700mm, the maximum feed size is 630mm, the CSS adjustment range is 40-175mm, and the production capacity can reach 80-400t/h.
The machine is driven by hydraulic motor. The main belt has a width of 100mm, a maximum discharge height of 3300mm, a walking track width of 500mm and a length of 3850mm. It can be operated by remote control and remote control and suspends the self-cleaning type of iron removal device. The machine can also be combined with QA340 mobile grading and screening machine to form a mobile crushing and screening station for engineering construction, urban construction waste treatment, mining and other fields.
HAZEMAG MP1000 crawler type mobile crushing station
HAZEMAG is a leading manufacturer of crushing and screening equipment in China, integrates R&D, production, sales, technical services and engineering machinery, provides customers with a full range of crushing and screening equipment and complete solutions.
MP1000 crawler type mobile crushing plant, designed and manufactured by German technology, can be applied to mineral and hard rock crushing, ore aggregate production, construction waste recycling, steel slag treatment, tunnel crushing and cement raw material processing.

MP1000 caterpillar type mobile crusher is equipped with an American Cummins engine, German Rexroth hydraulic pump and Swedish SKF bearing (optional). It has the characteristics of high crushing efficiency, large processing capacity, heavy-duty design and high reliability. It is easy to transport and can be put into production quickly. It is easy to maintain, flexible in movement, advanced in the engine, low in fuel consumption, greatly reducing operating costs and meeting the most stringent environmental standards.
The jaw crusher adopts hydraulic adjustment of the discharge port, which can quickly and conveniently adjust the gap of the discharge port;
The high-performance jaw crusher designed by 3D and finite element analysis is more suitable for crushing hard rock and construction waste; the feeder adopts double-layer structure, which is convenient for screening and fine materials, and the maximum feed size is up to 500mm;
Optimized power transmission scheme for high efficiency and low power consumption; Cummins diesel engine with optional Tier3 environmental protection standard and optional self-unloading iron remover;
The entire set can be transported using a standard flatbed;
The equipment has a built-in noise muffler, the best noise absorption system, compact and flexible equipment, more able to meet the construction waste crushing operation between urban areas, an effective dust removal system, suitable diesel engine noise discharge status, and the release system can remotely control the hydraulic elimination of the mobile crushing station. Obstacle, pre-screening device greatly improves crushing efficiency.
Terex 1-111(RS) crawler mobile crushing station
The 1-111 crawler mobile crushing plant produced by Terex (Quanzhou) Mobile Crushing Equipment Co., Ltd. is a heavy-duty counter-crushing crushing station. This model is designed to provide customers with excellent crushing ratios and the same product specifications in mining and solid waste recycling. The 1-111RS type is a return belt conveyor that adds a 3350×1525 double-layer screen to the 1-111 type and returns the oversized material to the crushing machine.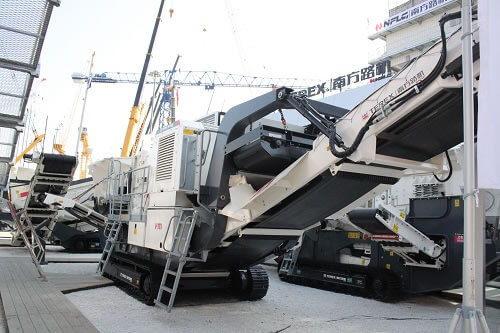 Both crushing stations are equipped with tracked travel systems, which allow them to work in the most demanding environments. Both models are characterized by easy installation, high fuel utilization and high output. At the same time, a heavy-duty vibrating feeder is installed under the crushing main machine. The combined belt conveyor can be lifted and auxiliary cleaned. The fuel-saving driving method reduces the operating cost, and the load management system can control the feeding speed.
The Carter C9 water-cooled engine is equipped with a maximum power of 242 kW and a weight of 40,200 kg. This crusher uses the Terex CR014 impact crusher with a rotor size of 1100×1040mm and is driven directly by the HPTO clutch and V-belt. The hopper has a capacity of 3.63m3 and can be discharged through a side belt conveyor or a main-belt conveyor.
Keestrack EXPLORER 1800 mobile screening equipment
Keestrack N.V is a Belgian company with independent intellectual property rights and specializing in the production of high quality mobile crushing and screening equipment. At present, it has a wholly-owned Anhui Yinzhou Screening Engineering Equipment Co., Ltd., which is mainly engaged in the manufacture and sales of mobile engineering equipment such as screening machines and crushers. EXPPLORER1800 mobile screening equipment is mainly used for recycling and recycling of waste, treatment of topsoil and other materials, separation of concrete aggregates and gravel after crushing and screening.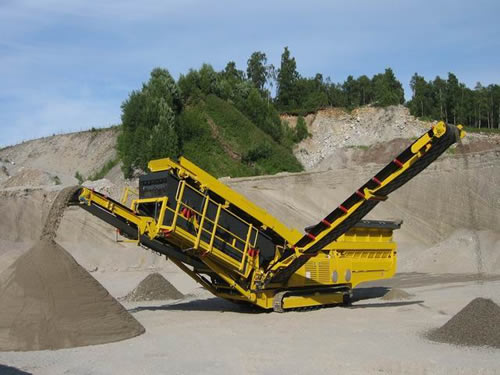 The machine is equipped with a diesel engine with a Deutz power of 91 kW. The hydraulic motor uses a Sauer-Danfoss load sensing motor with a fuel saving rate of 25%. It is equipped with the advanced structure of the double-layer KeestrackKT-4818MD sieving machine main structure, using 11kW hydraulic motor, the feeding hopper grid is hydraulic dumping, the volume is 7.7m3, the speed of the track feeder is adjustable, 0— 6.1m/min. Optional wireless remote control controller, bottom anti-blocking device, top banana screening board, surface soil pulverizer, etc.
The machine has a good mesh screening channel, no support, can be placed upright, has excellent performance, has the best maneuverability and flexibility, provides a low-cost way of excellent screening, stable and reliable design, light work quality and convenient transportation. The feeding height is low, the assembly time is short, the whole machine has high reliability, and has perfect safety protection function.
---
JXSC has been supplying different types of rock crusher machines for over 35 years. Contact us for a quotation.
Hot products: jaw crusher, impact crusher, cone crusher, ball mill, shaker table, centrifugal separator, jig, magnetic separator, flotation, gold trommel, trommel scrubber, gold washing plant, and so on.
LATEST PRODUCTS
Designing an automatic gold collection machine sp…

The foot water pump is applied in developing worl…

The sand pump gold mining boat is a small gold mi…