Published time:21 October 2019
The river gold mining gravity separation equipment is suitable for use in rivers, beaches, shoal for the beneficiation of metal ore such as tantalum niobium ore, gold, lead, zinc, tin which specific gravity greater than 4.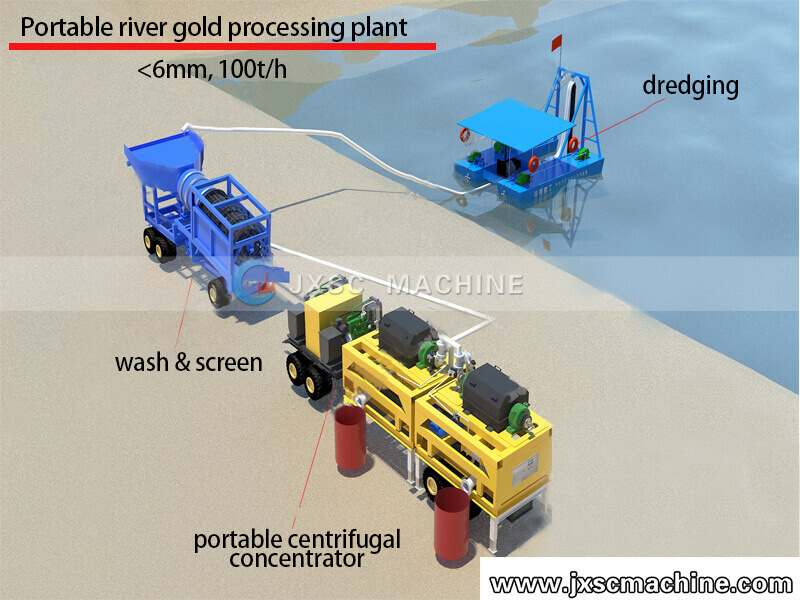 【Description】100 t/h mobile river gold gravity separation plant
【Material】material size less than 6mm, specific gravity greater than 4
【Main machine】portable horizontal centrifugal concentrator
【Advantages】
1. Flexible and movable.
2. Sand pump + buffer box feeding method, free from considering feed height difference and platform.
3. It can be used with other gold panning equipment in different conditions, such as vibrating sluice box, gold dredger.
4. Adjustable feeding method, eg. change the buffer box into a hopper feeder.
5. The horizontal centrifugal concentrator is reliable and stable when used on the gold panning car, and is fully controlled by the PLC computer, which greatly improves the work efficiency.
【River gold mining equipment】
Machine
Specification
Quantity
Power
(KW)
Remark
portable screening machine
Feeder hopper;
Gold trommel scrubber: inner diameter 1.3m, outer diameter 2.2m;
Trommel screen: inner diameter 1.3m, outer diameter 1.6m, net length 3m;
Motor: 7.5KW;
Chassis: heavy truck chassis, triaxial 12 tires, with traction & steering system;
Pump: 6-inch sand pump +30KW motor;
Water pump: 7.5KW submersible pump
Switch box: 1 set
1
does not contain water pipe
portable centrifugal concentrator machine
Chassis: heavy truck chassis, four-axle 16 tires, including traction & steering system;
Hydraulic system: 5.5kw hydraulic station, 8 hydraulic cylinders;
Centrifugal concentrator: horizontal centrifuge concentrate machine, 2 sets, 21.5KW;
Centrifugal pump: 11KW 1 set;
Switch box: 1 set
1
does not contain water pipe
Water diesel pump
diesel engine
1
Feeding pipe
6 inch
10m
Feeding pipe
4 inch
300m
Price
Contact us for the latest price
trommel screen specification
vibrating feeder specification
LATEST PRODUCTS
The 5 Deck High-frequency Screen is arranged in s…

The mobile vibration sand screening and conveying…

Trommel sand screening machine is a kind of scree…