Published time:15 May 2018
Description of beneficiation equipment:
The production of rock type chrome ore mining process line covers feeder, jaw crusher, vibrating screen, cone crusher, ball mill, jigging machine, shaking table, drying system, magnetic separator, conveyor and so on. 2-300 tons per hour processing capacity is available in JXSC factory.
Beneficiation theory of chrome ore mining plants:
After crushing by the crushers, chrome grains are liberated or dissociated from the gangue and the mixed ore can be fed to the separation processing for the secondary processing stages.
Chromite ore beneficiation machines are allocated according to the specific natures of the chrome ore. The main methods for chrome beneficiation are mainly gravity separation and magnetic separation. And the chrome beneficiation machines are also mainly gravity separators and magnetic separators. So at the beneficiation process, the equipment are quite different from each other because the chrome concentrating methods are different for different chrome ores. Many methods can be used in chrome ore beneficiation plants. The mainly chrome ore beneficiation method is gravity-separation. The mainly chrome ore concentrating equipment are ore washing box (called jigger), table concentrators, spiral chute, etc. . Usually, the chrome ore can be upgraded by jigging machines firstly, and then the shaking table can be used for secondary upgrading as fine selection to get final high grade chrome concentrate.
The specific mineral beneficiation flow is as follows:
The raw ore should be crushed by jaw crusher initially. When it gets the reasonable fineness, it is transported into vibrating screen through conveyer and feeder.
The screened ores get the next procedure: milling process in ball mill, then next jigging separation. The milled ore gets into chrome jig separator for gravity separation.
Chrome ore is beneficiated by crushing–screening–washing–selection or heavy medium separation for block granularity enrichment. Flow sheet of medium separation–jigging–milling–sprial beneficiation–intensity magnetic separation has been adopted widely, and flow sheet of shaking table–ore washing–dry normal magnetic separation–intensity magnetic separation–floatation separation is used to separate sea chrome sand.
The beneficiation Equipment flow produced by our company can provide you with all-around technical support. According to different customers and different chromite mine, JXSC design different beneficiation complete processing lines for you.
JXSC mine machinery factory is a professional manufacturer of One-Stop solutions provider for kinds of ores, mainly for Gold,Tin,Chromite,Tungsten,Coltan,Diamond,Tantalum-Niobium,Silica Sand,Manganese,Tantalite,Ilmenite,Limonite,Beach Sand,Coal,Monazite,Rutile,oteher precious metals ores. A mini test can be done for you free here in our factory with samples of 20-30 kg can be available from you.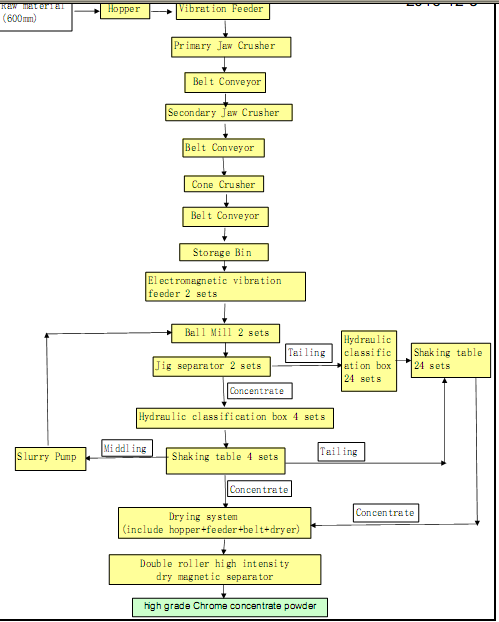 LATEST PRODUCTS
The mobile vibration sand screening and conveying…

Trommel sand screening machine is a kind of scree…

The spiral sand washing and screening integrated …