Published time:21 October 2019
The mobile rock crusher is a novel rock crushing machine that greatly expands the application range of coarse crushing. Eliminate the limitations of crushing sites, environments, etc., and both high efficiency and low cost.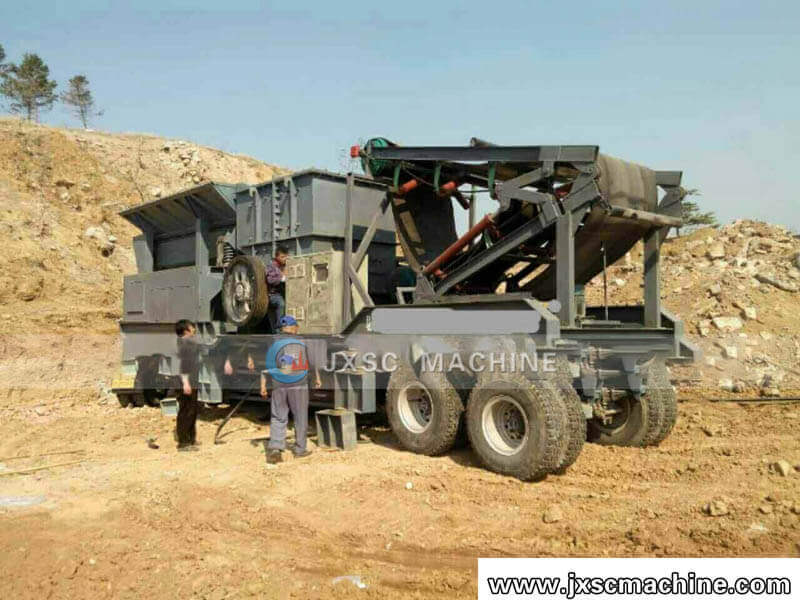 Mobile jaw crusher
【Feeding size】 480-650mm
【Discharge size】 65-275mm
【Capacity】 85-650t/h
【Application】
1. Mines, coal, garbage and construction waste recycling, earth and stone work, construction, roads, etc.
2. Quarrying, aggregate, concrete.
3. Artificial sand making of river pebble, limestone, granite, basalt, diabase, andesite, ore tailings.
【Type】
1. Crawler type mobile crushing station (caterpillar mobile crusher)
Get on the trailer, to the hill, mine, coal, etc. It can work in a narrow area.
2. Tyred mobile crushing station (wheel mobile crusher)
Wheel drive, returnable in situ, small turning radius, flexible and convenient, suitable for urban highway operation.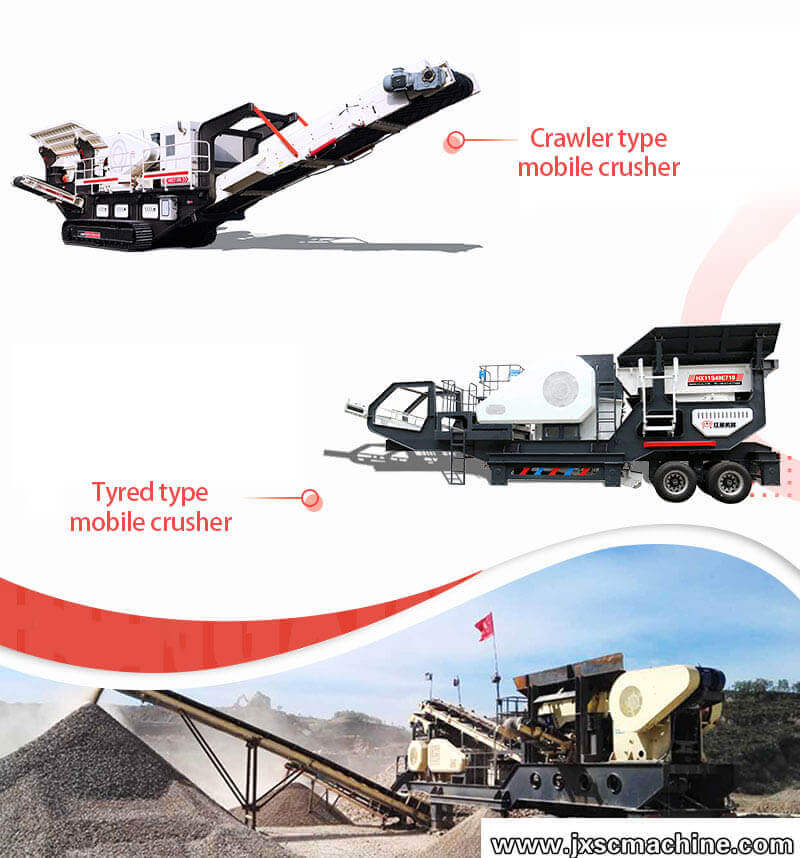 【Related machine】
The configuration and design are customized according to customer requirements.
Machine
Specification
Quantity
Power
(KW)
Remark
Chassis
Heavy truck chassis
1
Jaw crusher
primary jaw crusher and fine crusher
Buy it
3
90
Belt conveyor
feeding, discharge
7.5
4
less than 3cm; 3-8cm; 8-15mm material
Feeder
vibrating feeder
Buy it
1
0.55
control cabinet
Delixi brand
1
hydraulic station
1
30
Price
Contact us for the latest price
【Advantages】
This set of tire-type mobile crusher is mainly used for crushing and screening of rock gold or other minerals. JXSC has accumulated many years of experience in making mining machinery and is constantly improving. Compared with the traditional mobile crushing plant, it has the following advantages:
1. Reinforced U-beam chassis plate, stable and secure;
2. The combination of the generator, reducing the equipment area, greatly improving the flexibility of equipment movement and transportation costs;
3. Flexible and convenient. Using a semi-trailer for long-distance transportation. short distance transportation, it can use the excavator or loader to pull. (Note: ordinary mobile crushing stations can only be pulled by semi-trailer);
4. Hydraulic support, convenient elevator.

【Customer crushing site】
LATEST PRODUCTS
The foot water pump is applied in developing worl…

The sand pump gold mining boat is a small gold mi…

The Gold distiller known as the mercury steamer, …