Published time:13 June 2019
As of 2019, the world had 130 million tons of rare earth ore, with China accounting for 42.31% of the world's reserves, Brazil 16.92% and Australia 2.46%, according to the U.S. Geological Survey. Besides, by increasing the industry standard has caused the US reserves fell from 13m tonnes to 1.8 m tonnes and its share of reserves fell from 9.29% in 2013 to 1.38% in 2015. in summary, the rare earth major producer is China, Australia, United States.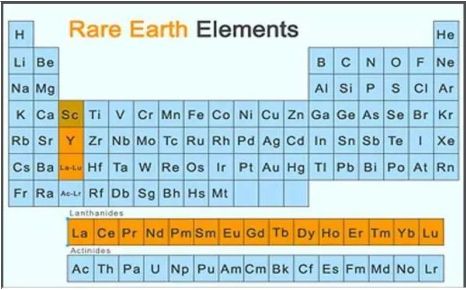 Rare earth elements, also called rare earth metals, are a group of 17 chemical elements. In recent years, countries around the world have increased the exploration intensity of rare earth minerals, Southeast Asia, Africa, South America countries continue to find new rare earth mines.
Do you know what are rare earth minerals used for? — click
China has more than 40% of rare earth resources, and its production and reserves rank first in the world. Rich rare earth elements, large reserves. The main mines are in Inner Mongolia Province, Shandong Province, Sichuan Province, Southern Provinces, and coastal placer deposits along the coastline. Main minerals have bastnaesite, monazite, barite, etc.
Australia's rare earth minerals are mainly monazite, mostly recovered from byproducts of the production of rutile, Zircon, and Ilmenite. The major deposits include Mount Weld carbonate weathering mine, east and west coast placer deposits. In addition, also have xenotime and uranium tailings.
The United States has bastnaesite, monazite, gadolinite, euxenite, xenotime, etc. They are mainly distributed in Florida, South Carolina, North Carolina, Idaho, Montana and Georgia and so on the area.
Russia has large reserves of rare earth minerals, mainly apatite in alkaline rocks, besides, there are 29% ~ 34% cerium-niobium-perovskite resources in apatite ores.
India monazite production began in 1911, it is one of the earliest rare earth producers in the world. The main deposits are placer type, and mostly in the Madras, Orissa and Kerala. In addition, the largest deposits are located in the Teulat province on the west coast of southern India. Between 1911 and 1945 it supplied half of the world's output. In 1958, huge monazite and ilmenite deposit were discovered on the Ranchi Plateau, it has been the main source of Monazite in India today.
South Africa is the most important rare earth producer in Africa, the world's only single-vein Monazite rare-earth deposit is located in the steenkampsklar region of Cape Province and is a major source of Monazite in Africa. In addition, bastnaesite and Monazite are associated with the buffalo fluorite.
There are few independent rare earth deposits in Canada, which mainly recover rare earth from by-products of uranium mining, of which uranium deposits in Ontario are the main source. It is mainly composed of Ilmenite, Pitchblende, monazite and yttrium phosphate. Rare Earth is extracted as a by-product while uranium is extracted by the wet method. In addition, Lake strange, located in the Newfoundland and Labrador provinces, is rich in yttrium and Barite, and pyrochlore in the Awka area of Richmond is also a large potential rare earth resource.
With the rapid development of the world's economy and technology, the world's developed industrial countries have shifted the impetus for economic growth to the areas of the defence industry and high-tech cutting-edge technologies. Rare earth plays an irreplaceable role in more than 30 industrial fields related to national defence and high-tech because of their excellent photoelectric properties. Especially, the development of new materials, electronic and information industry, new energy, aerospace and energy-saving and environmental protection has greatly promoted the demand for rare earth products. Since 2010, global demand for rare earth has grown at an average annual rate of 7.1 percent, reaching 180,000 tons in 2015. In the future, with the invention of various rare earth functional materials, Rare Earth will play an even more important role in the process of global industrial economic development.

Rare earth minerals mining equipment – JXSC mine machinery factory
LATEST PRODUCTS
Designing an automatic gold collection machine sp…

The foot water pump is applied in developing worl…

The sand pump gold mining boat is a small gold mi…