Published time:20 April 2019
Jaw crusher and gyratory crusher as the primary crusher, play an important role in the crushing process. How to choose the suited primary crusher from the jaw crusher? What's the difference between a jaw crusher and a gyratory crusher? JXSC starts with the following points: structure, capacity, energy consumption, maintenance.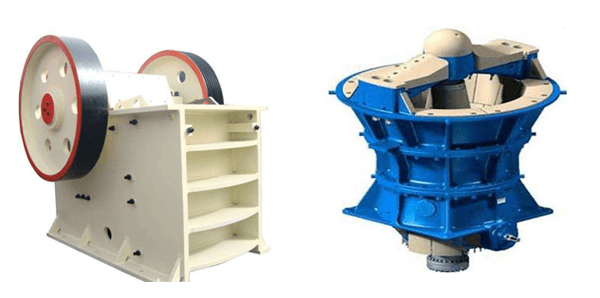 Structure
Jaw crusher has a simple structure that easy to install and maintain.
The gyratory crusher is taller than the jaw crusher, thus needs a high workshop design. Besides, gyratory crusher is heavy than jaw crusher, it's not convenient to move.
Capacity
Gyratory crusher can work continuously, has high productivity and crushing ratio( up to 6-9.5), working performance is very stable, light vibration. Jaw crusher cannot work continuously, leading to lower productivity.
Jaw crusher has a weakness that the cavity cannot be filled with material, a gyratory crusher has much flexibility.
Feeding and discharging size
Compared with the jaw crusher, the feeding size of the rotary crusher is larger, the discharging size is smaller and more uniform, and the content of needle-like particles in the discharging is less than 10%. the raw material can directly into the feed mouth without the need for a feeder.
Jaw crusher has more requirements for the feed material, for instance, it is demanded that impact crush the large material to fit the coarse jaw crushing. Besides, the content of flat, sharp and needle shape particles is higher than 20%.
Wear parts
Because of the working principle of squeeze crushing, the liner steel plate of the jaw crusher is easy to wear.
Energy consumption
Practice shows that the energy consumption of the medium size gyratory crusher is much less than the same size jaw crushers. The enemy consumption of jaw crusher is high mainly because it adopts the discontinuous impact crushing, and need to work in with several types of equipment. Medium-fine crushing process consumption due to the non-uniform size coarse material takes a great proportion which increases the workload.
Maintenance and repair
The gyratory crusher price is higher, but its maintenance interval is longer. Owe to the complex structure, it is inevitable that the cost of maintenance and repair higher than the jaw crusher.
Operating site
The gyratory crusher is mainly used for coarse crushing of various hard material in the primary crushing stage, but it is not suitable for crushing viscous ore.
Jaw crusher can crush high moisture, viscous ore, and not easily blocked. Generally, the large scale mining process company more use the gyratory crusher, the small-sized mining process plant and quarry plant more to adopt jaw crusher.
Dust
The coarse jaw crusher has a large amount of dust emission, the rotary crusher is much better.
All in all, if one set jaw crusher can achieve the needs of production, buy jaw crusher; if need two sets of jaw crusher, that would be better to buy a gyratory crusher.
You may interest in
1. Single Toggle vs Double Toggle Jaw Crusher
2. Jaw Crusher Operation
LATEST PRODUCTS
Designing an automatic gold collection machine sp…

The foot water pump is applied in developing worl…

The sand pump gold mining boat is a small gold mi…